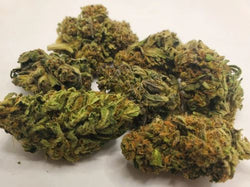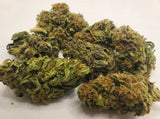 SOCIETY's GOLD-VIII Delta-8 D8 Flower Hemp
SOCIETY'S GOLD-VIII DELTA-8 D8 FLOWER HEMP
Delta-8 Gelato Smokable CBD Hemp Flower Benefits
SOCIETY's Plant Delta-8 flower starts with the "Lifter" strain of CBD flower, known for its pain and anxiety-relieving benefits. Lifter is a cross between Suver Haze #50 and Early Resin Berry and is very high in cannabidiol (CBD) and touts the benefits of the cannabinoid, cannabigerol (CBG), which has been shown to be neuroprotective. Lifter CBD flower is known to be a mood-enhancing strain and when combined with delta-8 the benefits become even more potent and out of this world. Perfect for someone desiring euphoria similar to THC flower, but with the extra edge of a unique terpene profile. 
Delta-8 Hemp Flower Smoking Experience
Delta-8 THC can be an effective pain reliever for chronic pain. Cannamom and Weed Mom author, Danielle Simone Brand often touts its benefits for migraines on her Instagram page. It can also provide relief for those with chronic back pain and other similar pain that doesn't respond to conventional treatments or over-the-counter products. Medicinal use of cannabis may be supreme for anxiety and depression, not everyone has legal access to cannabis flower so Delta-8 is a legal alternative that can calm and soothe the whole body.
Delta-8 Gelato Strain: MOST UPLIFTING
Delta-8 hemp flower with Gelato terpenes is reminiscent of this hybrid strain. Gelato has a creamy, dessert-like flavor reminiscent of berries, flowers, and the dessert for which it was named. The gelato terpenes are infused in a sun-grown lifter CBD flower, which is an energetic and uplifting daytime CBD strain with a piney and fresh aroma. 
Terpenes: Limonene, Myrcene, Caryophyllene, Linalool

 
Delta-8 Headband Strain: BEST FOR RELAXATION
Delta-8 hemp flower with Headband terpenes comes on slow, this strain has been said to make you feel as if you are wearing a crown or "headband". With scents of pine, diesel, and lemon the Headband terpene profile is used for pain, to relax, and reduce stress levels. 
Terpenes: Myrcene, Caryophyllene, Limonene 
Delta-8 Do-si-dos Strain: BEST FOR PAIN
This strain is a powerful & relaxing hybrid. The Do-Si-Dos terpene profile has a pungent, sweet, and earthy aroma with a minty, sweet flavor. The do-si-dos terpene profile indicates its use for depression and anxiety, as well as pain and inflammation. 
Terpenes: Limonene, Caryophyllene, and Linalool
You can find answers to the most frequently asked questions about hemp flower in the SOCIETY FAQ's section. 
The Smokeable Hemp Guide was written to support you in the consumption of high CBD, low THC, hemp flower. Alternative ways to consume CBD include CBD tinctures, CBD pre rolls, CBD gummies, CBD vape cartridges, and CBD teas.
*These statements have not been evaluated by the Food and Drug Administration. This product is not intended to diagnose, treat, cure or prevent any disease.
---
Mind = BLOWN
Mixing the CBD with my regular flower has been an awesome experiment and has helped me tremendously! Love this brand!
This put a "Pep in my Step"
I'm so glad that I bought Gold-VIII Delta-8 D8 Flower Hemp! As always, it didn't disappoint. I was relaxed, but had plenty of energy to get all of my tasks done for the day! I'll be buying more!
Smokes nice
The hemp flower from SOCIETY always smokes nice. This one in particular is my favorite because of the extra umph of the d8
Absolutely love!
Good flavor, good vibes and perfectly ground! I couldn't be more pleased with this product! 10/10 recommend!