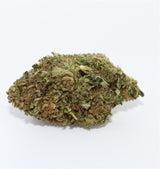 Bubba Kush Smokable CBD Hemp Flower Benefits
If you have a racing mind or problems sleeping at night, Bubba Kush smokable CBD hemp flower might be just what you're looking for! It has been nicknamed the "Indica Queen" for its profound relaxing effects. It is a descendant of Pre '98 Bubba Kush and a CBD-rich Kush strain. This strain definitely soothes the mind and body and customers have reported it helping with their sleeping difficulties, pain issues, and nervousness.*
Bubba Kush CBD Strain Smoking Experience
Bubba Kush is a more pungent flower than many other CBD hemp flower strains and may induce a cough, but we promise it'll be in a good way with the results being complete relaxation.* On the inhale of smoking Bubba Kush, you'll notice notes of lemon and grass from the terpene limonene, and as you exhale you'll take in the slightly bitter, but decadent notes of cacao and coffee. However, just because it has flavors of coffee this hemp flower won't hype you up, instead, it'll wind down your body and mind for a more sedated night of restful sleep.* 
Cannabidiol/CBD: 12.5%

Terpenes: Bisabolol, Humulene, and

Caryophyllene

.

3rd party Lab Tested

Farm Bill Compliant
Bubba Kush CBD Hemp Flower Terpene Profile
Bisabolol:

Anti-inflammatory, antimicrobial, antibiotic, antioxidant, anticancer, anti-anxiety, and anti-depression properties.

Humulene:

Humulene can be found in spices such as ginger and sage, as well as in cannabis, adding strong antibacterial and anti-inflammatory effects.* Weight loss: as an appetite suppressant, humulene works alongside other chemicals in cannabis to promote weight loss.*  Pain: As a depressant, humulene is a potent pain reliever.*

Caryophyllene

: Caryophyllene is capable of interacting with some of the receptor sites that comprise the endocannabinoid system. The main cannabinoid pathways within the endocannabinoid system are the CB1 and CB2 receptors. Caryophyllene only acts on the CB2 receptors rather than the CB1 receptor that the cannabinoid THC acts on which causes the psychoactive effects, in this way caryophyllene can alter the ECS without the "high" of THC.

Studies done on mice

show that CB2 receptors are involved in the regulation of emotional behavior and could be a potential therapeutic target when it comes to anxiety and depression.  
How to Buy Bubba Kush High CBD Hemp Flower
This smokable hemp flower strain is also available in Pre Roll Joints and our Ready to Roll, "ground perfectly for you" hemp flower.  You can find answers to the most frequently asked questions about hemp flower in the SOCIETY FAQ's section. 
The Smokable Hemp Guide was written to support you in the consumption of high CBD, low THC, hemp flower. Alternative ways to consume CBD include CBD tinctures, CBD pre rolls, CBD gummies, CBD vape cartridges, and CBD teas.
*These statements have not been evaluated by the Food and Drug Administration. This product is not intended to diagnose, treat, cure or prevent any disease.
---
Favorite flower 100%
Bubba Kush balances me out throughout my day. My favorite CBD strain!
I've missed Bubba Kush
I haven't been smoking THC a lot lately, so getting to taste that Bubba Kush without the effect of THC and with the benefits of CBD was AMAZING!!!!!! Thanks HighSocietyMama, you never disappoint!
LOVEE
I absolutely love Bubba Kush from society!! It's a wonderful smoke, nice and smooth, and it goes amazing in a hand rolled 1:1 joint! I will definitely be a returning customer.
Bubba kush hep flower is smooth and calming
This one smokes easy. It doesn't have the punch of flavor that some of the other strains have but I find it to be the perfect relaxing bedtime strain to go down smooth with no harshness. I will be buying this CBD strain again for sure!
Bubba Kushy Goodness
Another favorite strain along with Boax. I make tinctures and infused oils with this by itself or with various cannabis strains. Really helps with chronic joint pain. Huge thanks to Society for being here.
Organically Grown
We control every aspect of the growing process, from seed to flower, ensuring the highest quality. Our hemp flower is grown naturally with no chemicals.
Calming Scent
Many of our users attribute to this product having a strong sandalwood scent.
3rd Party Tested
All our products are tested and verified by a 3rd party to meet quality standards.
Relaxing
Start a stressful day with a our calming Boax Spectrum strain. Or use it to fully relax at the end of the day.