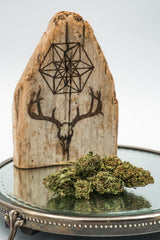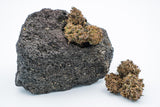 CBD Indica Flower Boax Strain
Boax Spectrum Smokable CBD Hemp Flower Benefits
Boax Spectrum is a balanced hybrid strain (meaning it is a good ratio of indica/sativa qualities) that has a great aroma and flavor.  This strain is a long-time favorite for the CannaMom community and is deemed to be very effective in stress relief and mellowing out, while others tout it for the pain relief benefits.* It is a great introduction to smoking hemp for beginners, and experienced cannabis will also feel calm and relaxed, as well as provide an uplifting and positive experience.*
Boax Spectrum CBD Strain Smoking Experience
Boax Spectrum's aroma is reminiscent of sandalwood, pine, and sweet earth. If you're looking for peace of mind, to think clearer, and to experience overall balance in body & mind, then Boax Spectrum may be the best flower strain for you.* This CBD hemp flower strain brings together the perfect blend of cannabinoids and terpenes for overall health and well-being.
Cannabidiol/CBD:13.6%

Terpenes: Pinene,

Myrcene

, Farnesene, and the rare Ocimene

3rd party Lab Tested - SOCIETY's Plant CBD Hemp Flower is federally legal per the 2018 Farm Bill)

This hemp product contains less than .3% Delta-9 THC
Boax Spectrum CBD Terpene Profile
Pinene

: this terpene is also found in pine trees, which is one reason "Forest Bathing" is so beneficial for your mood.

This study showed: that "Phytoncides, such as alpha and beta-pinene were detected in the forest air."

 

Myrcene

: this terpene is responsible for earthy, musky, and even slightly fruity aromas reminiscent of cloves with a touch of grape-ness. Myrcene is sometimes referred to as "the mother of all terpenes" because of its wide array of health benefits.

Farnesene

: Consumers tell us that these strains offer relaxation and relief without making them drowsy. The terpene farnesene does not work alone; the full range of benefits comes from the "entourage effect". The entourage effect is the theory that all the compounds in cannabis work together to create unique effects.
Boax Spectrum High CBD Hemp Flower is also available in Pre Roll Smokes and our Ready to Roll, "ground perfectly for you" hemp flower.
The Smokable Hemp Guide was written to support you in the consumption of high CBD, low THC, hemp flower. Alternative ways to consume CBD include CBD tinctures, CBD pre rolls, CBD gummies, CBD vape cartridges, and CBD teas.
*These statements have not been evaluated by the Food and Drug Administration. This product is not intended to diagnose, treat, cure or prevent any disease.
---
Very effective
I make a raw hemp tincture from this strain and take 30-50 mg CBD/CBDA with an added THC cannabis strain in a 1:10 THC/CBD-CBDA ratio to help manage my long covid symptoms. Seems to be working well also for the numerous aches and pains that arise in my 65 year old body.
So good!
This is one of my top two favorite strains from Society! Calming without putting me to sleep!
Boax Spectrum
Really loving this strain. I make my own tinctures/infused oils and Boax is great either by itself or blended with a moderately potent Indica strain - think Kosher Kush for example. So glad I found Society - you guys are awesome!
Boax Spectrum
Awesome strain! Very happy with my purchase.
I need more!
I already went through this 1/8 - so good! Bianca, one of the cofounders of Society's Plant strongly suggested I give this flower a try and I'm so glad I listened!
Organically Grown
We control every aspect of the growing process, from seed to flower, ensuring the highest quality. Our hemp flower is grown naturally with no chemicals.
Calming Scent
Many of our users attribute to this product having a strong sandalwood scent.
3rd Party Tested
All our products are tested and verified by a 3rd party to meet quality standards.
Relaxing
Start a stressful day with a our calming Boax Spectrum strain. Or use it to fully relax at the end of the day.