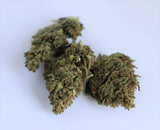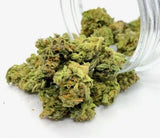 CBD Flower - Suver Haze Strain
Suver Haze Smokable CBD Hemp Flower Benefits
Suver Haze is a cross between Suver #8 and Early Resin Berry. It is considered a CBD-rich strain, with high concentrations of CBD and other cannabinoids. This is one of the most relaxing and calming strains, typically best for sleep issues, headaches, pain relief, and nausea.* You might find that it gives you feelings of heightened focus and mental clarity!*
Suver Haze CBD Strain Smoking Experience
When you inhale the terpenes of Suver Haze you'll notice a sharp flavor during the inhale with a lemon-like flavor. On the exhale, there's a slight orange and a sweetness. Afterward, you'll notice a spicy pepper and earthy flavor. Consumers have expressed that shortly after that exhale they feel a lightness in their neck and shoulders that releases tension and opens the body up to experience bliss. 
Cannabidiol/CBD: 12%

Terpenes: Myrcene, Caryophyllene, Farnesene 

3rd party Lab Tested 

Farm Bill Compliant CBD Hemp Flower 
Suver Haze CBD Terpene Profile
Myrcene

: This terpene is responsible for earthy, musky, and even slightly fruity aromas, reminiscent of cloves with a touch of grape-ness. Myrcene is sometimes referred to as "the mother of all terpenes" because of its wide array of health benefits.

Caryophyllene

:

This terpene is capable of interacting with a specific receptor site that comprises the endocannabinoid system. The main cannabinoid pathways within the endocannabinoid system are the CB1 and CB2 receptors. Caryophyllene only acts on the CB2 receptors, rather than the CB1 receptor that the cannabinoid THC acts on which causes the psychoactive effects, in this way caryophyllene can alter the ECS without the "high" of THC.

Studies done on mice

show CB2 receptors are involved in the regulation of emotional behavior and could be a potential therapeutic target when it comes to anxiety and depression.*

 

Farnesene

: Consumers tell us that these strains offer relaxation and relief without making them drowsy.* The terpene farnesene does not work alone; the full range of benefits comes from the "entourage effect". The entourage effect is the theory that all the compounds in cannabis work together to create unique effects.
How to Smoke CBD Hemp Flower:
You can find answers to the most frequently asked questions about hemp flower in the SOCIETY FAQ's section. 
The Smokable Hemp Guide was written to support you in the consumption of high CBD, low THC, hemp flower. Alternative ways to consume CBD include CBD tinctures, CBD pre rolls, CBD gummies, CBD vape cartridges, and CBD teas.
*These statements have not been evaluated by the Food and Drug Administration. This product is not intended to diagnose, treat, cure or prevent any disease.
---
Very relaxing
This is one of my favorite strains as an after dinner wind down. It helps release tension in my muscles and prepares me for bed time. Love!!
Tasty, terpy goodness
Love the effects (chill but functional) and love that it comes from a small family farm!
Suver Haze
Good quality and quantity! I would definitely purchase again!
As a non thc user this has been the most useful
I like this strain because it helps me with anxiety but doesnt make me tired. I have ound rocket fuel very good for putting me to sleep.
Great alternative for those sensitive to THC
I've been loving Suver Haze for help with sleep, headaches + nausea - symptoms I used to rely on THC to help with before my body became hypersensitive to the effects of medical cannabis. This hemp flower has been a saving grace alternative!
Organically Grown
We control every aspect of the growing process, from seed to flower, ensuring the highest quality. Our hemp flower is grown naturally with no chemicals.
Calming Scent
Many of our users attribute to this product having a strong sandalwood scent.
3rd Party Tested
All our products are tested and verified by a 3rd party to meet quality standards.
Relaxing
Start a stressful day with a our calming Boax Spectrum strain. Or use it to fully relax at the end of the day.