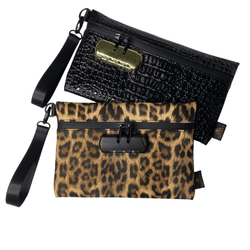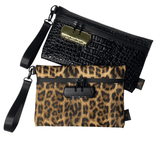 High Fashion Smell Proof Bags
High Fashion bag for the discerning cannabis connoisseur. 
Carry your stash discreetly AND in style with this locking smell-proof clutch! These SOCIETY branded, high-quality stash bags are the perf way to securely transport your goods. Toss the pouch in your larger purse or use the wrist strap to wear on its own as a wristlet. Each small tote has an easy-to-use combination lock that protects and secures any items such as wallet, phone, make-up, medications, keys, or travel items. Great for festivals & parties! 
Dimensions: Black crocodile: 28.6x16cm Leopard: 24.8x17.5cm 
---
No smell no tell
I love that I can carry my medicine with me without judgment. It is roomier than expected. I tell everyone about them
Locking smell proof bag is clutch for high fashion
I love being able to safely transport my CBD and delta-8 gummies in a bag that locks and looks fashionable. Can't wait to make a dispensary run with my bag in tow!
Fashion Meets Function
Something cute that also keeps my stash safe, yes please!!!
Cute and useful, - what more could you want?
I love this pouch because I can take it anywhere with me and look stylish (great feel too, not plastic-y). Love it!
Beautiful and functional!
The lock is easy to set and smell proof even when sitting in the sun being warmed. The texture of the leopard print resembles fur and feel so buttery. Love the mesh pockets to keep everything organized too.