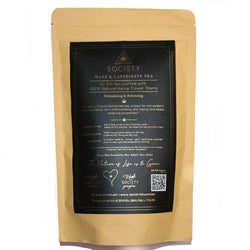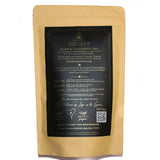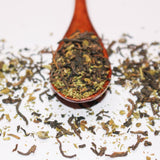 Replace your regular cup of joe with this highly caffeinated CBD Tea. Elevate your day with this artisanal blend of our hemp CBD stems blended with Pu-erh tea. Lab Results 
Pu-erh tea is a naturally fermented tea, named after the city of China that it was deported from; Pu'er City. This mellow, earthy tea ⁠can be steeped up to 7 times or until the brown color is not coming through anymore. 
---
Great tea
Love this flavorful tea! Nice and balancing
Thank you for peace of mind
Love how I feel when this is included in my daily self care practice
Perfect morning cuppa
I really enjoy the Wake and Caffinate tea. It's got a similar profile to Earl Grey to me the addition of CBD keeps me chill while also energized enough to get through the morning. It also resteeps really well and I can get several cups from one tea strainer full. Perfect substitute if you are trying to lay off coffee or energy drinks.
Feeling Balanced
I am a coffee drinker and cannabis smoker. I have tried the wake and caffeinate tea twice so far. The first time I believe I followed the suggestion on the packaging to determine how much to use and it was too much. lol! I was totally fine, but the flavor was too strong and I was in a bit of a parallel universe all morning. The second time I steeped just 1 tsp in almost 2 cups of water. This was great. The flavor was a little weaker which meant I was able to enjoy sipping it slowly throughout my morning and the benefits of the CBD seeped in slowly and consistently. I started the day super cranky (I decided to drink the night before, which always makes me cranky) and after getting up too late to smoke and snapping at my toddler I decided it was time to re-try this tea. I felt better almost immediately and had a very productive morning. I will certainly be adding this to my morning routines, especially on days when I can't make time and space to smoke.
Wake & Caffeinate
Love this tea! Highly recommend! I've replaced my morning coffee with this tea!