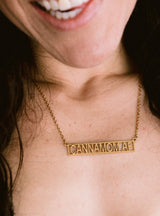 CannaMom Bling is Total Fire! 
Need a conversation starter to show off your status as a proud CannaMOM? We love this CannaMom AF necklace! 
We have the perfect accessory to go with spreading the word on momming with cannabis being COOL AF.  Represent the canna-community with this "CannaMom AF" necklace. 
Wear it in combo with a CannaMom shirt and you will definitely be invited to drop a knowledge bomb on the magic of cannabinoids. Also check out this CannaMom AF High-Ponytail hat for added AF attention! 

The necklace charm is 58mm x 10mm
---
Why Not State my GREAT
I am an advocate and educator so I place the call to see who answers.
This is such a classy way to make folks understand why ya smell like herbal essence in a classy ass way.
Advocate in Style
I love this necklace so much. It's the perfect piece to compliment any outfit!
The cutest necklace!
Such a fun and great way to rock canna mom apparel. I feel badass in it!
Super cute
Super subtle way of showing I'm a canna mom !!
Never Taking It Off
LOVE this nameplate style necklace! Perfect way to "subtly" tell the world who I am and what I do AND that IDGAF what they think about it! Pairs well with everything from sweats to sleepwear! I'm obsessed and will be gifting my fellow cannamoms