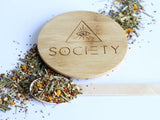 Staying positive never felt so easy! What's the secret? Positivit-TEA. This blend of Cannabinoids and curcuminoids. Lemongrass, ginger root, black peppercorns, and turmeric, combined with our artisanal CBD keep you feeling positive and elevated all day long! Lab Results 
Ingredients: Rooibos, Lemongrass, Hemp Leaves & Stems, Ginger, Turmeric, and Black Peppercorns. 
Rooibos:
Lemongrass: 

Hemp Leaves & Stems: 

Ginger:
Turmeric:
Black Peppercorns: 
---
Very tasty
I like the spicy taste and aroma. It settles my mind and relaxes my body. You are very generous with the amount in the package- thank you!
Positively highly recommend!!
Delicious
If you like starting your day off with some extra boost; I promise you won't regret it. I swear it helps aid in my happy morning moods!
Spicy & plenty!
Yummy... Waiting on effects, sitting down to enjoy my first cup. The smell of the tea is Amazing! Its a large bag too! Happy customer so far & I brewed it with my new metal steeper
So good!
This is my favorite tea to drink at night! It's helped me create the perfect bedtime routine by helping me wind down and relax before bed. I also like to add a little honey! It's so good!