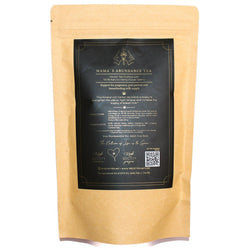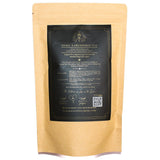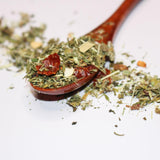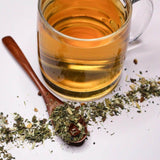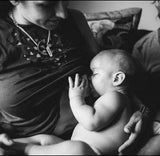 Mama's Abundance CBD Herbal Tea 
Mama's Abundance Tea is a delicious blend of herbs & artisanal CBD hemp designed to support healthy milk production, calm painful PMS symptoms, tone the uterus, calm the nerves & supply vital nutrients to replenish a new mama's stressed & tired body. Sipping this CBD tea regularly revitalizes the mind, body & spirit!*
This mineral-rich herbal tea blend is lovely to strengthen the uterus, fight fatigue, and increase the supply of breast milk.* Read all about the ingredients and details on why this tea was created with the womban in mind. 
Mama's Abundance Tea for Women's Wellness
We wrote an article on utilizing CBD for Women's Wellness. You might enjoy diving into all the ways to utilize plant medicine to improve your well-being. 
Breastfeeding moms & menstruating women benefit from CBD rich, Mama's Abundance Tea
To aid in women's wellness. The ingredients were selected for their ability to synergistically work with the female body to bring hormones back into balance. While it was created with the breastfeeding mother in mind, all the ingredients work wonders for use during a painful menstrual cycle and postpartum healing, primarily due to the balancing of hormones.*
Ingredients in Mama's Abundance Tea with CBD Hemp: 
100 % Natural Hemp Leaves & Stems:

The greatest need a Mama has is the restoration of vital nutrients that were used to sustain her through pregnancy and then breastfeeding the aerial parts of the hemp plant are actually a powerhouse of nutrients!*

Red Raspberry Leaf:

Commonly used by nurse-midwives to ease labor & delivery. This herb is considered a "tonic" herb, toning the uterus during & after pregnancy and also used for menstrual pain. It also supplies vitamins A, C, and E; and several minerals such as calcium & magnesium. * Suggested use in 3rd trimester.*

Nettles & Oat Straw:

Two more herbs that are toning & nutritional! Nettle is a source of iron in addition to other minerals and oat straw is a source of b-vitamins, calcium, and magnesium.*

Rosehips & Orange Peel:

Both are natural sources of vitamin C which will restore the integrity of the skin & support a healthy immune system.*

Chamomile:

This may help relieve muscle spasms and reduce the severity of menstrual cramps. When PMS strikes, chamomile soothes anxiety and irritability that hormonal shifts can cause.* 
SOCIETY's Products Support Cannamoms from Pregnancy and Beyond
Check out this post for a list of CBD products for Pregnancy and Beyond! 


*These statements have not been evaluated by the FDA. This product is not intended to diagnose, treat, cure, or prevent disease
---
Great flavor
Reading all of the other reviews, I wish I would have had this for my breastfeeding and postpartum. I will be gifting it to every new mother I can. I had a full hysterectomy so I can't review on that either. What I can say is that is has a great flavor and calming effect. Who doesn't need that these days!?
Great Blend
This tea taste great! And for the first time in a long time I haven't had extremely bad cramps!.definitely worth it!
Love!
I love this tea! I wish I had it early on postpartum! But I'm 8 months postpartum, still breastfeeding, and have my cycle back…this is the best! Delicious and comforting!
So tasty
I'm a big fan of hemp tea but it can often taste a bit too strong for my liking. This blend is perfect and delicious! It was so soothing and balancing! Def getting some more !!
Magic Tea
This tea is magic. Very simple. I first tried it when the creator herself brewed it for me while I was experiencing a cycle. Not only did it calm my craps down immediately but it was like a hug from the inside out. Every single ingredient helps soothe my cells and bring relief to me, practically immediately.
I am so grateful to have this in my personal tea arsenal now. I honestly might be greedy with it just because its so good.
Dont think about it any longer. Get it. It's worth it.