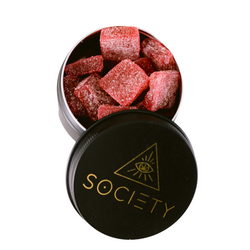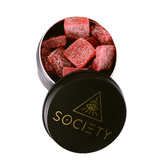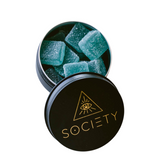 SOCIETY's R&R Delta 8 Gummies
SOCIETY's Rest & Relaxation Delta 8 Gummies 
When Delta 8 gummies kick in they feel like you are cuddling up in a warm comforting blanket. Unlike CBD gummies, these are more psychoactive and provide a deep level of relaxation. You will feel a mild and relaxing high without the anxiousness that some experience with THC Delta 9 gummies.*
Gummies are an easy, tasty, and convenient way to enjoy Delta8 cannabinoids as well as other alternative cannabinoids such as hemp-derived THC Delta 9 gummies, HHC gummies, and Delta 10 gummies. The effects of edibles come on slower and tend to last longer.  There are many instances that you might not be able to smoke or vape, but you can nibble on a gummy without anyone being the wiser! Just keep these intoxicating gummies out of reach of children!   
Delta-8 products are mildly euphoric and your experience will be based on your unique tolerance. We always recommend starting low (meaning ¼ or ½ of a gummy), and only increasing your consumption as you learn how the product will affect you. Derived from federally compliant hemp plants, SOCIETY's alternative cannabinoid gummies are legal under the Farm Bill and third-party tested. 
Benefits of Delta 8 Gummies THC Cannabinoid
Euphoric high that is discreet, convenient, and smoke-free

Great tasting: DELICIOUS OR MONEY BACK GUARANTEE

Reviews tout: anti-inflammatory, anti-anxiety, pain, and insomnia relief*

Energy Level: Very relaxing 

Expect to chill with a mild euphoria*

Long Lasting - up to 6 hours

Vegan/Plant-Based

Infused with psychoactive cannabinoid: Delta 8

3rd party Lab Tested

Farm Bill Compliant 

Check out this article to learn about

Alternative Cannabinoids; Delta 8, Delta 9, and Delta 10

. 
Delta 8 THC Gummy Effects and Dosage 
SOCIETY's R&R Delta 8 Gummies come in 25mg or 50 mg squares. 

20 gummies per tin. Total Delta 8 mg/tin = 500mg (25mg gummy) / 1000mg (50mg)

DOSE:

First-time users should split the gummy into smaller doses & increase as desired/needed

ONSET & DURATION:

Delta 8 Gummies THC Edible Onset = 30-90 min onset & up to 4-6 hours duration

Regular Delta 9 Gummies Onset = 30-90 min &  3-6 hour Duration

INGREDIENTS:

Vegan / Plant-Based: Cane Sugar, Filtered Water, Pectin, Hemp Extract, Artificial Flavoring, Sodium Bicarbonate

 

SOCIETY's Plant products are compliant with the 2018 Farm Bill, containing less than .3% Total THC
How to Buy Delta 8 Gummies from an Online Artisanal Hemp Shop
Delicious Cannabinoid Gummies or Your Money Back
Have you ever had plant medicine gummies that taste so-so?  Yes? Us too! That's why we decided that no one should have to eat mediocre-tasting cannabinoid gummies! To say that our gummies taste DELICIOUS is an understatement and we want to make sure you are happy with these gummies! 
DELICIOUS OR CREDIT BACK GUARANTEE: We promise that our gummies taste DELICIOUS. If you do not agree, then email contact@societysplant.com to receive a store credit refund for your gummies. 
*These statements have not been evaluated by the Food and Drug Administration. This product is not intended to diagnose, treat, cure, or prevent any disease.
---
BEST medicine ever !
These are so effective for pain. I can't take Tylenol or anything like that because the plague destroyed my kidneys. These help with my chronic and acute pain. I'm a ICU nurse, retired, and these help me with pain , anxiety and inflammation. My doctors all are aware and approve off me taking them. I live in the South , so there aren't any places to get what I need. I've tried other gummies, and these are the Best. I take 1 if it's not too painful, but sometimes I take 2 of the 50 mg. I'm in my mid 50's and these are fantastic. I love this company and their customer service is excellent. They ship quickly and I feel the price is reasonable. Thank you for improving my quality of life. .
Excellent quality - can't stop raving!
I'm in my 40's and always maintained a healthy lifestyle. Never been much of a smoker or recreational user so mainly use the gummies for help with sleep or relaxation and not for entertainment purposes. I would say I am pretty self aware of what I put in my body and how it affects me. I am very impressed with the quality and consistency of this product and I highly recommend it. Please start out small and literally don't bite off more than you can handle! :-)
The best rest!
I deal with insomnia due to just not being able to shut my mind off. These gummies are the only thing that has helped! I take a 1/4 of a gummy about an hour before bed. They make me feel calm and relaxed. My sleep is now deep and restful with no groggy feeling in the morning. Plus they taste great. I reorder when I'm down to just a few so that I don't run out. These really are the best.
♡
The gummies had a great flavor that wasn't to much and helped me stay calm
Best gummies yet!!!
These are my Mom's favorite she says
I send her gummy's ever year on 420 and then of course again on Mother's Day.
High society Mama is actually a real human being. I called and spoke to her and she guided me on which would be perfect for my Mom. Right again High Society Mama and thanks again!!!! Mom loves the pre rolls and the pen cartridges as well. She ran out and told me how Saturday Night Live wasn't funny when she watched without her High Society gummies and pen cartridges!!!!!
Mahalo from Hawaii
We love you out here!!!