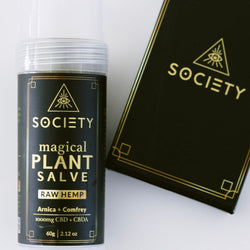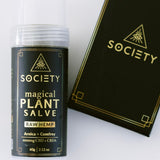 SOCIETY's Plant Raw Hemp Magical Plant Salve with CBDA plus CBD
Do you ever have a sore muscle and want to give that area some love? Bust out the magical plant salve to save the day!  Made with arnica & comfrey to *soothe irritated skin, ease bug bites, and relax your muscles, and those aren't even the BEST ingredients- this salve is nothing short of magical.*  Presented in a convenient no-touch tube that can be swiped on the affected area and enjoyed. But remember, it's for external use only, not to be used on the brain for bruised egos or scarred emotions.
In this coconut oil-based salve, RAW CBDA hemp extract works synergistically with herbs such as arnica, comfrey, and lavender to bring immediate relief from daily aches and pains.*  Utilize this magical plant to aid in muscle & skin discomfort with the amazing benefits of CBDA.*
Herbs Used in our CBD+CBDA Magical Plant Salve
Comfrey Leaf:

has been used traditionally for 1,000's years to aid in pain relief.* 

Lavender Oil

reduces the sting of insect bites and calms inflammation.*

Arnica Montana:

great for tired and overworked muscles, bruising, and even diabetic neuropathy.*

Peppermint Oil:

is known to relax muscles, control muscle spasms, and act as a pain reliever.*
Keep reading to learn why we believe CBDA is the dopest secret ingredient!
Why buy CBDA over CBD?
CBDA IS RAW HEMP - IT'S THE REAL UNADULTERATED DEAL. 
Just like juicing vegetables, which get even more goodness/nutritional content out than cooking them, the same principle comes to the cannabis plant. The RAW cannabis plant (aka the cannabinoid in its OG acidic form) is different because it is NOT activated yet to induce the euphoric high that heated cannabis does, but there are significant health benefits from acidic cannabinoids. 
Benefits of CBDA vs. CBD
CBDa is actually substantially more effective than CBD in activating a serotonin receptor that reduces nausea and anxiety. This can make these soft gels particularly helpful for combating morning sickness. It also makes it an excellent anti-inflammatory.* CBDa is a non-psychoactive cannabinoid. 
To learn more about CBDA + CBD read our "OH Baby, I Like it Raw", blog post. 
CBDA VS. CBD - WHAT IS THE DIFFERENCE?
Cannabidiolic acid or CBDa is the acidic form of CBD formed naturally by hemp plants. CBDA is the precursor to CBD, so it is abundant in plants when they are growing and even after harvest, as long as the plant is not heated. When heat is applied to acidic cannabinoids in a process called decarboxylation, it converts the acidic cannabinoid to a non-acidic cannabinoid. This heat can be applied through decarboxylation in an oven, Ardent FX machine, or other contraption and it is also introduced when the plant is combusted through smoking. This process of going from THCA to THC is what results in THC's psychoactive effects. 
Buy the BEST CBDA PRODUCTS from SOCIETY
SOCIETY's Plant has three RAW CBDA products including Magical Plant Pain-Relief Salve, SOCIETY's Plant Raw Hemp Tincture, and Raw Hemp Soft Gels. 
*These statements have not been evaluated by the FDA. This product is not intended to diagnose, treat, cure, or prevent disease
---
High Quality Pain Relief
This salve is pretty great. I had terrible knee pain post surgery and this salve along with the softgels have been a lifesaver for pain relief. Happy to have found a company that really cares about the customers and the quality of products.
Magical Salve
This truly is magical! I have arthritis in my hands that is worse after golf, I rubbed the salve on my painful joint and a few minutes later the pain disappeared! I will continue using and experimenting with this salve on other areas.
I have used other products with CBD which did nothing but this is worth the price!
It really works
Not going to lie this stuff has really worked on sore muscles and some arthritis pain that has been bothering me. You can see the green in it from the plant. This hits just right.
This really helps
I have some problem area that have constant throbbing pain. This has really made a difference! Will keep using it and recommend it for other with joint and muscle pain.